Immersive Nightlife Experience
Looking for an after-dark immersive experience that is sure to impress? Look no further than Illuminarium Atlanta. This adults-only attraction offers an array of ever-changing immersive environments, allowing you to escape into other worlds and experience something truly unique.
Highlights
Illuminarium Atlanta is the perfect destination for a unique date night or friend outing. The attraction offers two immersive environments, each with a different theme. In the first room, you can enjoy signature cocktails and small bites while experiencing the Tokyo Night Markets, an undersea reef, or a crystal cavern. In the second room, guests can journey through SPACE and explore the galaxy, from Saturn's rings to the moon and beyond. On most nights, there is a live DJ providing entertainment.
After Dark Immersive Nightlife
But what really makes Illuminarium Atlanta stand out is its After Dark Immersive Nightlife. This experience takes the already stunning visuals and soundscapes of Illuminarium Atlanta and adds an extra layer of magic. The attraction is transformed at night, with different experiences available exclusively during the evening hours.
During After Dark Immersive Nightlife, visitors can expect a completely different atmosphere. The lighting and sound effects are enhanced to create a more immersive experience, and there are even more interactive elements available. Visitors can touch and interact with the environment in new ways, adding an extra layer of excitement to the experience.
What to Expect During After Dark Immersive Nightlife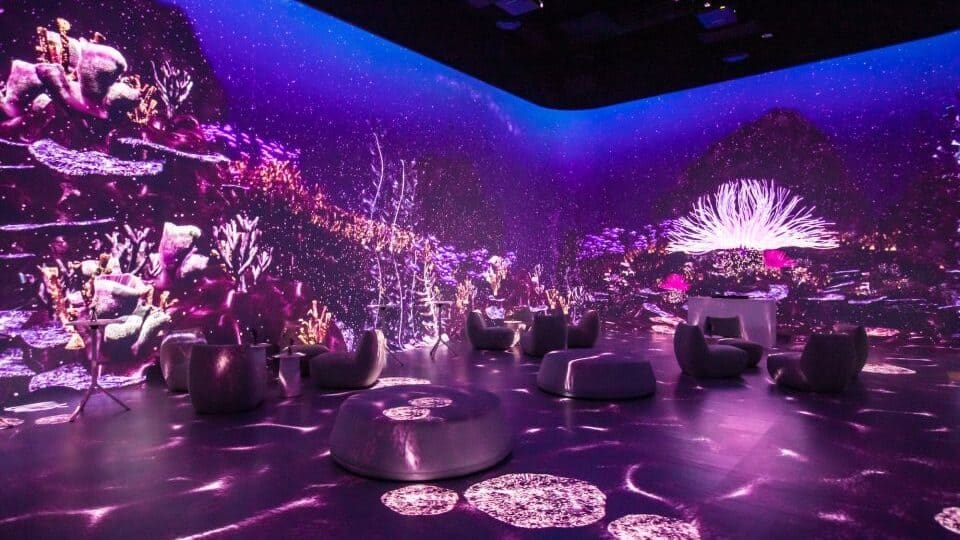 If you're planning on visiting Illuminarium Atlanta during After Dark Immersive Nightlife, there are a few things to keep in mind. First, the attraction is open until 11 pm on Fridays and Saturdays, so those are the best times to visit if you want the full After Dark experience. Second, be sure to dress comfortably and wear shoes that are good for walking. You'll be on your feet for a while as you explore the different experiences, so you want to be comfortable.
Experience
When visiting Illuminarium Atlanta, you can expect a fully immersive experience. Enjoy signature cocktails and small bites while lounging in comfortable surroundings. The attraction features 4K laser projection, state-of-the-art audio, haptics, and even scents, ensuring that you are fully transported into another world.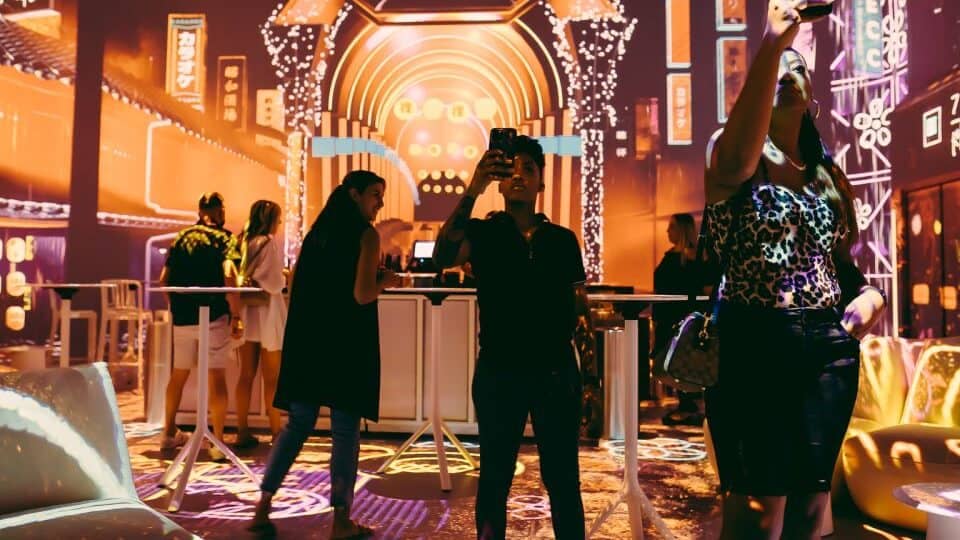 What does the immersive nightlife experience include?
Illuminarium Atlanta offers free cancellation for up to 24 hours in advance, making it easy to book with confidence. Additionally, the attraction has implemented special Covid-19 precautions to ensure the safety of all guests. The ticket is valid for one day and the attraction is wheelchair accessible.
Sample Menu
The sample menu available in Room 1 includes a variety of savory bites such as Avocado Hummus, Quesadillas, Grilled Chicken Strips, Southern Fried Catfish Strips, Hot Wings, and BeltLine Burger Sliders. Please note that the menu is subject to change.
If you are looking for an after-dark immersive experience that is sure to impress, be sure to book your spot at Illuminarium Atlanta. With two ever-changing immersive environments, signature cocktails, and small bites, and state-of-the-art technology, you are sure to have an unforgettable experience. Book now and get ready to be transported into a magical world like no other.